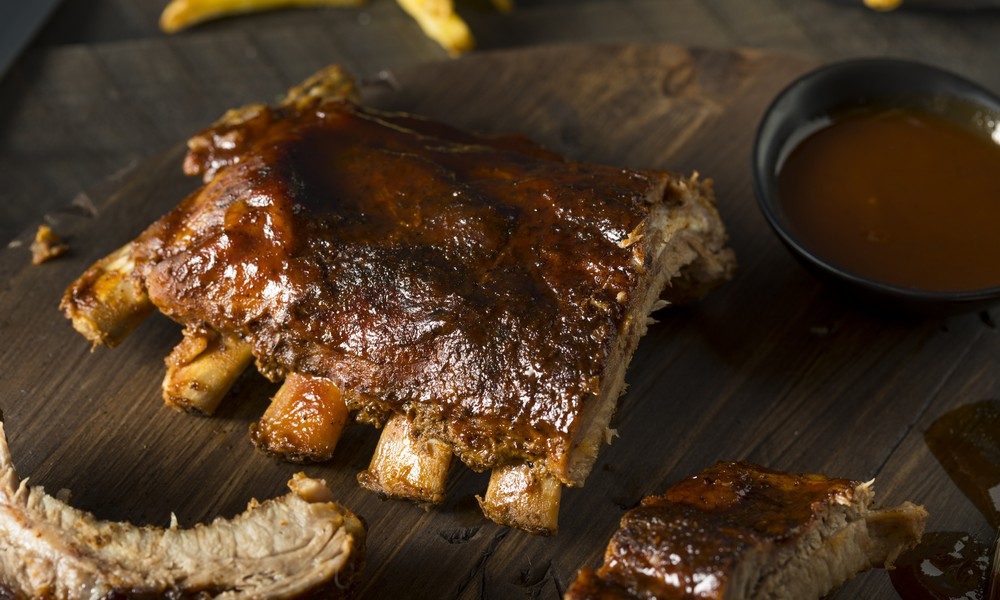 There are so many ways to make fabulous BBQ ribs. The rich, smokey flavor you get from grilling the meat is pungent and delicious. But what if you don't have time to tend your grill for hours? Perhaps it's getting cold and you want terrific flavor without standing outside all day. Maybe your at home watching the kids and can't keep running back and forth. This recipe is done in the oven and finished on the grill* for the most tender, juicy, flavorful ribs you have ever tasted! You'll never want to make another type of ribs ever again!
You can do this recipe with any kind of ribs you want. I like baby back, but have made this recipe with spareribs as well, though the cooking time will be a little longer. You'll need 2 racks of your chosen rib for this recipe.
The first thing you need to do is make a dry rub.
Ingredients:
1/2 cup light brown sugar
1 tablespoon chili powder
2 tablespoons salt
1 teaspoon garlic powder
1 teaspoon onion powder
1 teaspoon ground cumin
1 teaspoon ground thyme
1) Combine all ingredients and mix with your hands to break up any lumps in the brown sugar
2) Apply the dry rub liberally to both sides of the ribs pressing it firmly into the meat.
3) Wrap each rack of ribs in heavy duty aluminum foil and refrigerate for at least one hour. I like to do this the night before to let the flavors meld and really season the meat.
Now you'll make a braising liquid. This is what will keep the ribs so moist and juicy over the long cooking time.
Ingredients:
1 cup dry white wine (I like Sauvignon blanc)
2 tablespoons Worcestershire sauce
2 tablespoons cider vinegar (or white vinegar if that's what you have)
1 tablespoon honey
5 cloves of garlic, chopped
2 drops liquid smoke (can be found in your supermarket near the bbq sauces)
1) Mix all ingredients in a microwave safe bowl and microwave on high for one minute.
2) Stir until combined.
That was easy, huh? This step can also be done the night before and stored in the refrigerator. These first two steps only take a few minutes.
It's time to cook the ribs!
1) Preheat your oven to 250 degrees.
2) Place the ribs on a baking sheet.
3) Open one side of the aluminum foil and pour half the braising liquid into each packet and slide into the oven.
4) Braise the ribs in the oven for 2 1/2 to 3 hours. You don't have to tend or watch them at all!
The last step is to throw your ribs on the grill to get a nice crust on the meat.
1) Take your ribs from the oven and pour the braising liquid into the widest pan you have. Skim off the fat with a spoon and turn the burner to high. You'll want this to reduce by at least a third. You'll know it's done when it gets dark in color, thick, and sticky.
2) While reducing the liquid, heat your grill to high. When heated, lay the ribs meat-side down until you get a nice brown color.
3) Turn the ribs and brush with the thickened liquid. Close the lid and let the glaze thicken on the rib. 2-3 minutes.
Now you're done! Grab a roll of paper towels and chow down! I hope you love this recipe as much as my entire family (and everyone else I've ever made it for) does!
*If you don't have a grill or want some delicious ribs in the winter the last step can be done in your oven broiler. After you're done braising just broil the ribs meat side up until brown, brush on the glaze and broil until thick and caramelized and eat!