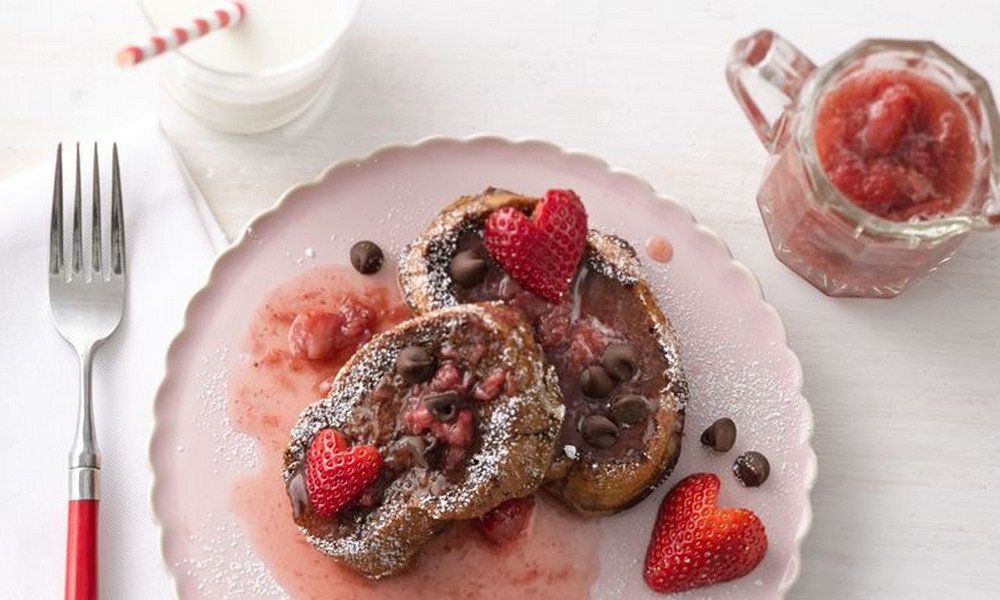 Enjoy an extra delicious treat this Valentine's Day with these mouth-watering slices of chocolate French toast with strawberry syrup.
Ingredients:
French Toast
12 slices (1 inch thick) French bread
1 cup milk
½ cup whipping cream
¼ cup butter
2 tablespoons granulated sugar
1 teaspoon vanilla
1/8 teaspoon salt
¾ cup semisweet chocolate chips
4 eggs, slightly beaten
1 tablespoon powdered sugar
Additional semisweet chocolate chips
Strawberry Syrup
1 lb. strawberries, halved
½ cup real maple syrup
Directions:
Grease the bottom of a 13x9 pan and line with bread slices.
Next, heat milk, cream, butter, granulated sugar, vanilla, and salt in a 2-quart saucepan until simmering over medium-low heat. Stir occasionally.
Once simmering, remove from heat and stir in ¾ cup of chocolate chips until melted and smooth.
Gradually beat in eggs until well combined. The mixture should thicken.
Pour the chocolate mixture over bread, coating completely and turning over each slice if needed.
Cover and refrigerate at least 2 hours, but no longer than 8 hours. Remove from refridgerator 30 minutes before baking.
Heat oven to 375°F. Bake until chocolate mixture sets, approximately 25 – 30 minutes.
To make the strawberry syrup, heat strawberries and maple syrup in a quart saucepan. Simmer over medium-high heat, then reduce to medium-low heat, stirring occasionally until strawberries are soft. Gently mash the berries with a fork or potato masher. Pour over French toast slices and sprinkle with powdered sugar if desired.
Bon appétit!
Image Credit: Betty Crocker