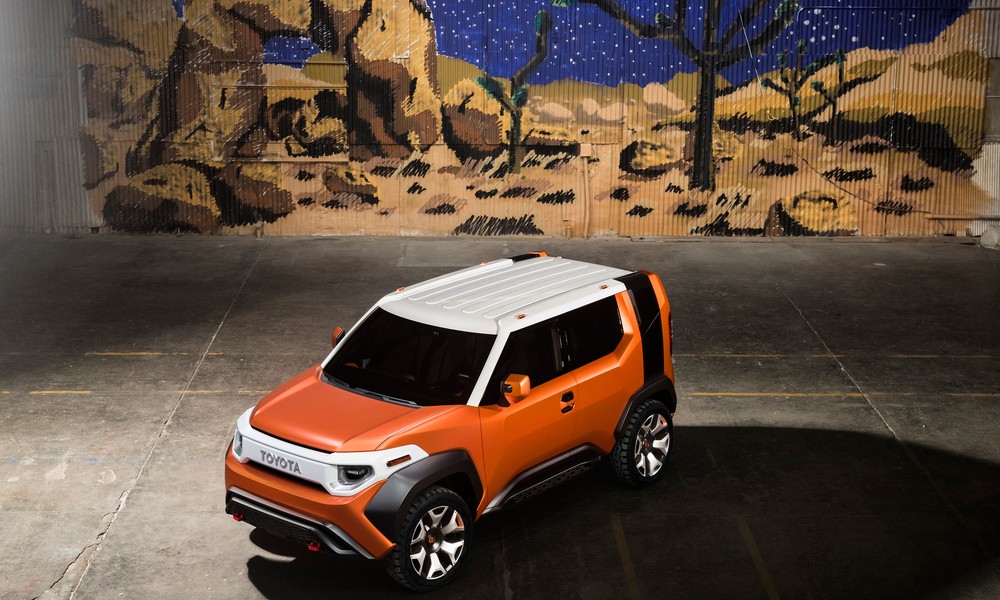 The new Toyota FT-4X Concept, or "Future Toyota"-Four-Wheel Drive Crossover, is tailor-made for today's millennial lifestyle. The completely revolutionary concept from Toyota's Calty Design Research Inc. is well-equipped to take on today's "casualcore," not hardcore, excursions. It reflects the Gen Y shift from extreme, high-effort outings to quick, spontaneous trips.
The embodiment of "Rugged Charm"
Placing value on simplicity, capability and durability, the FT-4X reflects a new approach called "Rugged Charm." It's compact and sturdy with clever features in unexpected places.
The rear hatch, or Multi-Hatch, opens two ways: vertically like a hatch and horizontally like a pair of doors. Two highly visible red hooks are positioned just below the Multi-Hatch for tying down gear. Convenient exterior outlets can be used to power campsite electronics and extra lighting.
Multi-tool cabin built for convenience on the go
The surprising delights continue inside. Color-coded storage bins are everywhere: blue signifies closed storage and orange indicates open storage. Inside the Multi-Hatch are warm and cold storage bins so you can warm up your ski gloves and cool off your drinks.
The rear door handles double as water bottles. The removable interior lighting doubles as a flashlight. There's a North Face® sleeping bag in the center console and a GoPro® camera mounted in the driver-side rearview mirror to capture all the adventures.
Fun comes first
As Ian Cartabiano, Calty Studio Chief Designer, said:
You can really tell that we had a blast designing the FT-4X because it looks fun to use and fun to drive. I love this idea of mechanical satisfaction because while we're living in today's digital world, we took something that's based on physical movements and made that a large part of what this vehicle is. We want everyone to interact with this car and feel a sense of delight and excitement.
The FT-4X Concept is both a fun-filled example of Toyota innovation and an inspiration to follow the path less traveled. At Molle Toyota, you'll find the perfect Toyota vehicle to create your own stories—wherever they may lead.
Image Credit: Toyota