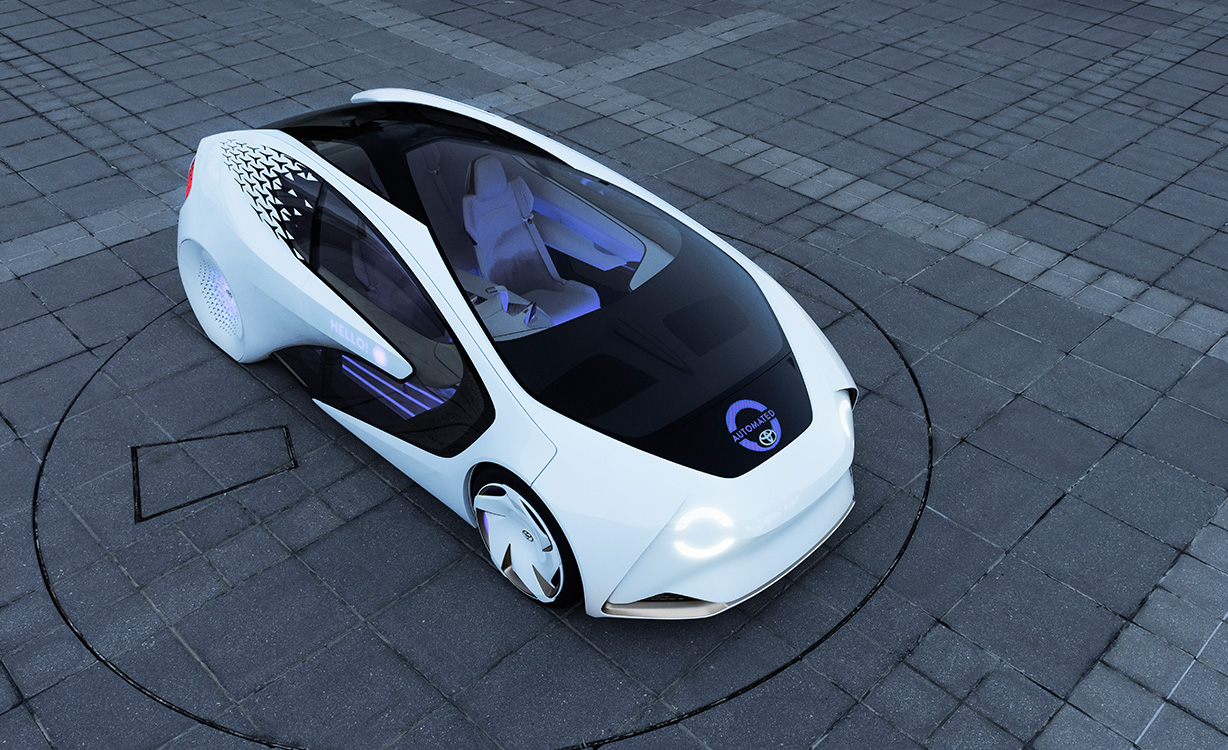 Toyota Shows Off at CES 2017
With all the advances in modern vehicles (like computers, Wi-Fi hotspots, and autonomous driving technologies), it's no wonder that they play such a prominent role at Las Vegas' annual Consumer Electronic Show (CES). Automakers often take the opportunity to show off some of their most impressively advanced concept vehicles at CES, and the one Toyota brought to the show blew us all away here at Molle Toyota.
Called the Concept-i, the concept demonstrates the Japanese automaker's willingness to reimagine the relationship between a driver and their vehicle. As Bob Carter, senior vice president of automotive operations for Toyota, says:
At Toyota, we recognize that the important question isn't whether future vehicles will be equipped with automated or connected technologies. It is the experience of the people who engage with those vehicles. Thanks to Concept-i and the power of artificial intelligence, we think the future is a vehicle that can engage with people in return.
Jam-Packed with Technology
A futurist's dream, the Concept-i boasts a host of features to make driving as enjoyable (and safe) as possible. A next-gen head up display gives the driver information, like their speed, without making them search for it. Toyota engineers know that this could be a distracting and potentially dangerous search. The vehicle also boasts projectors in the rear deck that will project views onto the seat pillar to help warn about blind spots.
Comes with a Friendly AI
One of the features that really sets the Concept-i apart is its Artificial Intelligence (AI), one designed to act as a friend and co-pilot. Named "Yui," drivers and passengers alike will see the friendly blob of light everywhere from its home on the dash (where it will use light, sound, and even touch to communicate critical information) to the doors of the vehicle (where it will greet people as they walk up to it to get inside).
Yui will also help the Concept-i communicate with other drivers on the road, displaying information on the rear like upcoming turns or hazards, while the front of the vehicle will show whether the vehicle is in manual or autonomous mode. Speaking of autonomous mode, Yui will learn from its owner based on their driving habits, time of day, and even their mood, to help make their driving experience as enjoyable as possible.
Essentially, the Concept-i's AI is like a friend, really—ready to take the wheel if you'd like it to, but perfectly willing to sit back and relax if you're in the mood to drive. And it's always keeping a weather eye out for trouble, in case you miss that suddenly-braking vehicle ahead of you, or that car in your blind spot as you try to get over on the highway.
---
Though the Concept-i is, like its name says, a concept, we're very excited about what it means for the rest of the Toyota lineup in the future. To learn more about the technologically advanced vehicles Toyota has to offer you in the present (or to take one for a test drive), don't hesitate to call, contact us online, or visit us at 601 W 103rd St., Kansas City, MO 64114 today.
Image: Toyota