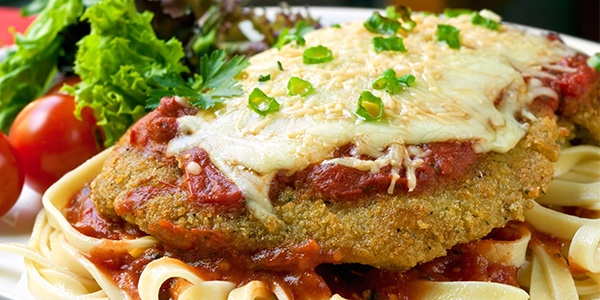 As we continue our Molle Family Recipe series, we are proud to bring you a delicious veal parmigiana recipe that our family loves. We are certain that yours will too!
Veal Parmigiana
Ingredients:
1 1/2 lb. veal, sliced thin
2 beaten eggs
1 c. seasoned dry bread crumbs
1/4 c. grated Parmesan cheese
Salt and pepper
1 (8 oz.) pkg. Mozzarella cheese
Directions:
Mix bread crumbs with cheese.
Dip veal in beaten eggs, then in bread crumbs, coating lightly.
Heat oil on skillet; add veal slices and cook until golden brown on each side. Add more oil as needed.
Place veal in baking dish to cover bottom in a single layer.
Add Tomato sauce, sliced Mozzarella cheese and 1/4 cup grated cheese in layers over veal.
Cover baking dish with foil.
Bake for 30 minutes or until bubbly.
Tomato Sauce for Veal
Ingredients:
2 tbsp. salad oil
1 clove crushed garlic
1/2 c. chopped onion
1 (6 oz.) can tomato paste
1 (1 lb.) can Italian tomatoes
2 tsp. sugar
1 tsp. salt
1/2 tsp. dried oregano
1/4 tsp. pepper
Directions:
Sauté onion and garlic in hot oil in saucepan until brown.
Add tomatoes, tomato paste, sugar, salt, and pepper.
Add water if too thick.
Mix well. Mashing the tomatoes with a fork.
Bring to boiling; reduce heat and simmer, covered, for 20 minutes.
Enjoy!